Our licensed Estheticians offer advanced therapeutic skin care for men, women and teens. In keeping with our mission, we use only certified organic products.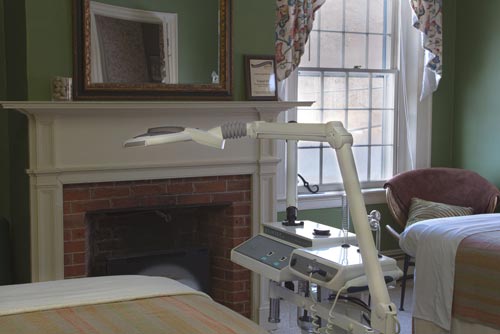 Strong House Organic Facial – Let us rejuvenate your skin and provide a customized facial using active organic products by Jurlique infused with anti-aging and healing ingredients.   A double cleansing, gentle exfoliation, extractions, hydrating steam, massage and mask combine to deliver green-organic-wellness.
50 min ♦ $110
80 min ♦ $165
Anti-aging Facial – Great for mature, unbalanced or congested skin. We use organic enzymes or botanical acid peels by Naturopathica that safely remove dead skin cells. This skin refining treatment uses micro-current to effectively polish and smooth the skin allowing for superior product absorption.
50 min ♦ $125
25 min ♦ $65 or (series of 4) ♦ $239
Purifying Facial – A deep cleansing facial focused on unclogging pores and balancing oil production in the skin. We use high frequency and antibacterial products to promote healing and eliminate toxins restoring your skin. Micro-current is used to exfoliate the skin and to penetrate active serums.
50 min ♦ $115
25 min ♦ $55 or (series of 4) ♦ $199
Purifying Back Facial – This treatment includes a deep cleansing, anti-oxidant exfoliation, as well as a detoxifying and clarifying mask. A back massage performed under warm steam followed by extractions, if needed, complete this amazing service.
Dermarolling Facial- Address fine lines, deep wrinkles, sun damage, pigmentation & scars. Remold your skin by promoting woven collagen production to smooth skin and allow for superior product absorption.
Head To Toe Treatment – This deeply relaxing and luxurious facial utilizes Jurlique's iconic rose formulas. Your luxury facial includes a foot soak, hand paraffin, and Colorescience lip exfoliation. We complete this treatment with a foot reflexology using rose oil that will restore and hydrate your skin for a truly exquisite experience.
Tinting
Lash tint ♦ $30
Brow tint ♦ $20
Both ♦ $45
Makeup Application with Organic SPF Rated Colorescience Mineral Makeup – Look terrific for that special event and everyday protection from the sun.
Separately ♦ $45
With facial ♦ $25