All bodies – all ages & sizes – can benefit from treatment by our highly trained and licensed massage therapists. We have four rooms for private massage.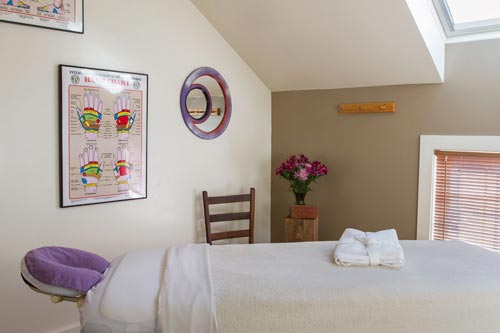 Our Signature Massage – Whether you are overly stressed, need a wellness tuneup, or just need to relax , this is the perfect blend of modalities to restore your inner and outer self.
25 min ♦ $60
50 min ♦ $115
80 min ♦ $175
110 min ♦ $230
Deep Therapeutic Massage – Release the issues in your tissues. Restore your range of motion, address injuries, relieve chronic pain or long standing tension and stress. Let us give you the results that we are known for.
25 min ♦ $65
50 min ♦ $125
80 min ♦ $190
110 min ♦ $250
Reflexology – Treat your overworked hands and feet to a firm massage that will rejuvenate your entire body.
25 min (hands or feet) ♦ $65
50 min (both) ♦ $125
Add Reflexology to your Facial for a full body experience.
Sports Massage- For the serious athlete or the weekend warrior. Speed your recovery and improve your workouts.
 25 min  ♦ $65
 50 min  ♦ $125
Oncology Massage- Our therapists are certified to help patients during and after treatment.
Mini Stress-Buster Chair Massage – Sit down for quick results on a specific area. Fully clothed.
Massage Clinic- Come get effective, efficient, and convenient treatment. Fully clothed. Maximum 2 sessions per day. Please wear comfortable clothing.