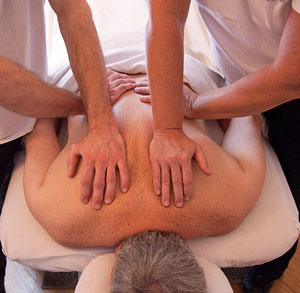 Four Handed Massage– Your body, two therapists – the ultimate experience. Full body stretch that only two therapists can provide.  Price depends on the massage that you choose.
Four Handed Facials
One face, one body and a therapist for both. The ultimate head to toe experience. Pricing based on facial and massage chosen.
Intra-Oral Massage – Relieve pain inside the mouth from dental work, clenching, grinding and stress. Our staff are specially trained to delicately treat the tension that many hold in their jaw and face which contributes to head and neck pain.
Prenatal Massage – Take care of the Mom-To-Be. Relieve upper and lower back pain and leg strain while side-lying or face down on our specially designed pregnancy table or body cushions. We use a unique blend of oils to reduce skin changes from stretching.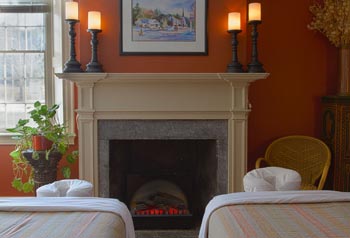 Side-By-Side Massage – Picture yourself and someone special enjoying any of our fabulous massages in front of one of our three fireplaces. Add a trip to the sauna to complete the experience. What better way to spend some quality time?
Price corresponds to individual selections
Side-By-Side Facial – Enjoy the facial of your choice with a friend or family member relaxing in front of one of our fireplaces. Treat yourself to organic skin care with our talented skin care specialists and feel the difference in your skin.
Price corresponds to individual selections
Hot Stone Massage – Unwind from your day with this Swedish massage. The deep penetrating heat of basalt stones will warm your body for soothing relaxation.
Hot Lava Shell Massage – Melt your tight muscles with this exotic massage in which Tiger Striped Clam Shells are filled with organic algae, sea salt and essential oils that heat up the smooth shell for a deep warmth. The edge, crown and hinge of the shell is used to adapt to all the areas of your body to get to specific areas of tension.
Forest Bathing with a Forest Bindi- Re-boot your entire system and escape the screen imposed toxicity. Begin with instruction on Nordic walking combined with aromatherapy and meditation through our fabulous nature trails. Connect with nature in a way that brings you back to self. Finish with a Far Infrared Sauna and massage.
Massage Training – Bring a partner and learn to perform a full body basic massage on each other. Minimum time 2 hours. Each person will receive a full body massage with instruction from one of our skilled therapists.
Minimum time 2 hours ♦ $275